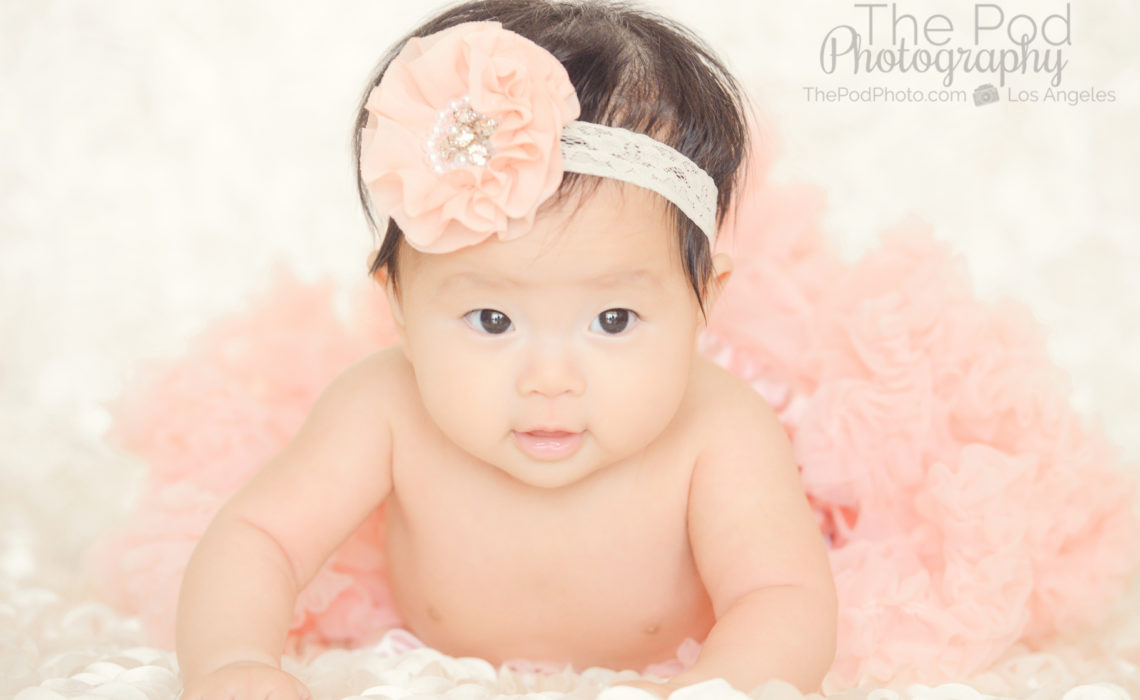 One of the cutest ages to photograph in a baby's life is when they are between three and four months of age. This particular phase in a little one's life is often overlooked by parents as an important milestone since it's right in between newborn and seven months However, it is such an awesome phase to document in pictures and our professional baby photographer Erika loves to capture these portraits at our Los Angeles photo studio!
Kiddos at this three to four month phase are so cute because they are finally starting to be in control of their bodies. Their little necks are nice and strong and can hold their heads up, and those tummy muscles are strengthening and getting ready to sit up. When we photograph babies at this age, we often put them in buckets to help them sit up – and it's sot cute to see them bang on the sides and try to eat the rim 🙂
Three months of age is also the time to capture that iconic "naked baby tushy shot." We get requests from clients clients all the time wanting exactly that tush picture of their baby. This tummy-time pose can be a little tiring for a newly developing baby, but we always shoot as a team when we are in a photo shoot and one of us is always helping to prop the little baby up whenever it gets tough for her to hold her head up.
The other reason this age is my favorite to document and photograph is because of those amazing baby smiles! Babies in this phase can now see far enough to see our faces and – since we are pros at making babies smile – they are just so entertained by every expression, peek-a-boo and funny sound that we make. Those gummy little smiles are my favorite 🙂
We met this particular family when big brother was about the same age as Charlotte when he came to our studio for his three month pictures. We are honored that this family chose us as their photographers for these important life milestones and have trusted us to document their children's pictures!
Visit our website www.thepodphoto.com to learn more about having us document your baby's awesome three or four month developmental milestone pictures. Give us a call at 310-391-500 to book today!
Our professional baby photography studio is the best photographer in Los Angeles to document your baby's portraits. We also service Santa Monica, Beverly Hills, Culver City, Manhattan Beach, Hollywood, Playa Vista, Playa del Rey, West Los Angeles, El Segundo, Mar Vista, Studio City, Sherman Oaks and the surrounding Southern California area.