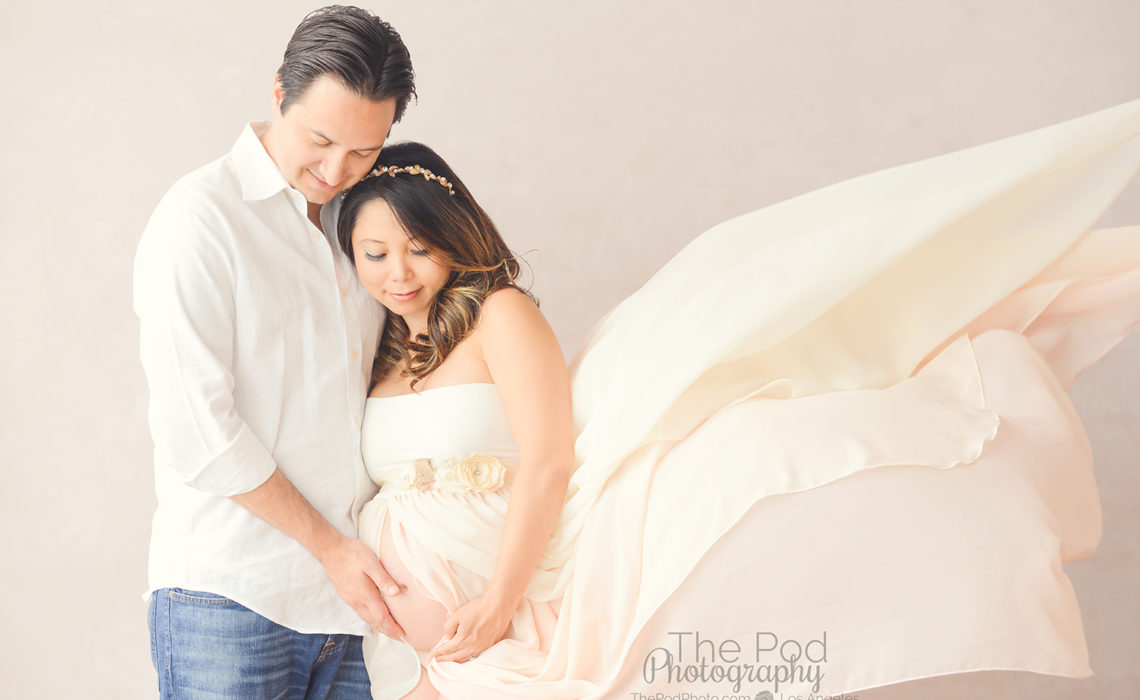 Maternity photography is one of my very favorite types of pictures to capture because I know how meaningful they are to the family. Especially when this is a couples first baby, these photographs are the documentation of their lives and relationship before it all gets turned upside down with the arrival of a new child. During a couple's maternity photos session with us, I love to dress the mama-to-be in different outfits and then let the couple interact and be natural together – this couple was so cute together and WOW, did she look stunning!!
Here's what this mama had to say about her pregnancy pictures photo shoot at our studio on Yelp:
"We were searching for the perfect photography place to capture our maternity moments and of course of our future newborn.  Pod photography stood out with the 5 star reviews.  I looked at their gallery of pictures and knew this was the place to go with!
I worked with Erika from the start, and she is a bundle of positive energy and so very nice!  The photo session went so smooth.  I wasn't sure how our maternity ones will turn out since I'm always self-concience about photos, but wow they turned out amazing!  Even my sister and Mom who are extremely critical loved them and they have only complimenting things to say about them!
I highly recommend this place, don't cheap out and go to those places in malls and other photographers that just don't have the talent like Erika!
I will post an update after the newborn photos!! Can't wait. Thank you Erika and staff!!!  We couldn't be happier."
Our Manhattan Beach, CA photography studio specializes in pregnant belly photography – and our professional maternity photographer, Erika, is a pro at capturing beautiful, timeless images of you and your family. We also document newborn babies at our photo studio between the age of 5-10 days after birth. We would love to talk with you about your maternity or newborn baby pictures – give us a call at 310-391-4500 and check out our website!