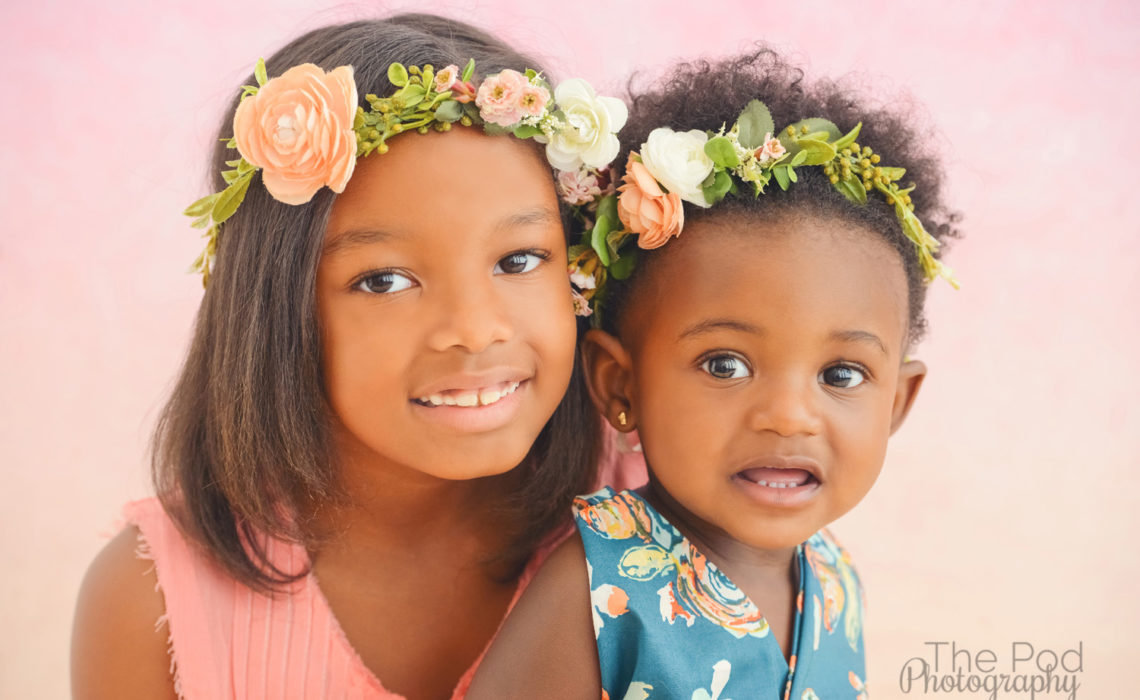 This adorable kids portrait session was so much fun, and these two gorgeous girls were so well-behaved that we were able to do multiple outfits and get incredible shots!  Most of the time, when photographing two children together at our portrait studio near Malibu, California, we're lucky to get great photos of the kids together in ONE outfit, let alone two or three!
Planning this session was a blast, since mom had so many amazing ideas she wanted to execute.  Our first setup was my absolute favorite – we used our gorgeous new hombre background and dressed the girls in fun, summer rompers and dresses with matching bohemian floral crowns.  These photos are so stunning, they remind me of eating frozen sorbet!
Outfit number two was just as gorgeous.  Mom had brought in this custom-made angel wings outfit for her youngest daughter, so when she saw that we had a white dress and grown-up angel wings for big sister to wear here at the studio, she freaked!  These were so stunning, we can't even handle it!!
And to finish off this beautiful sister session, we also wanted to give mom something a little more classic and traditional where she could show off these girls' matching dresses.  The soft pinks with the cool grays and blues were the perfect look and ended up being the cover of the amazing album that they ordered!
Interested in having your children's portraits captured at our Malibu photography studio?  Give us a call at 310-391-4500 to set up a consultation with your photographer and be sure to follow us on our Blog, Facebook, Instagram and Google+ to see what we've been up to, or explore our YouTube page for more!