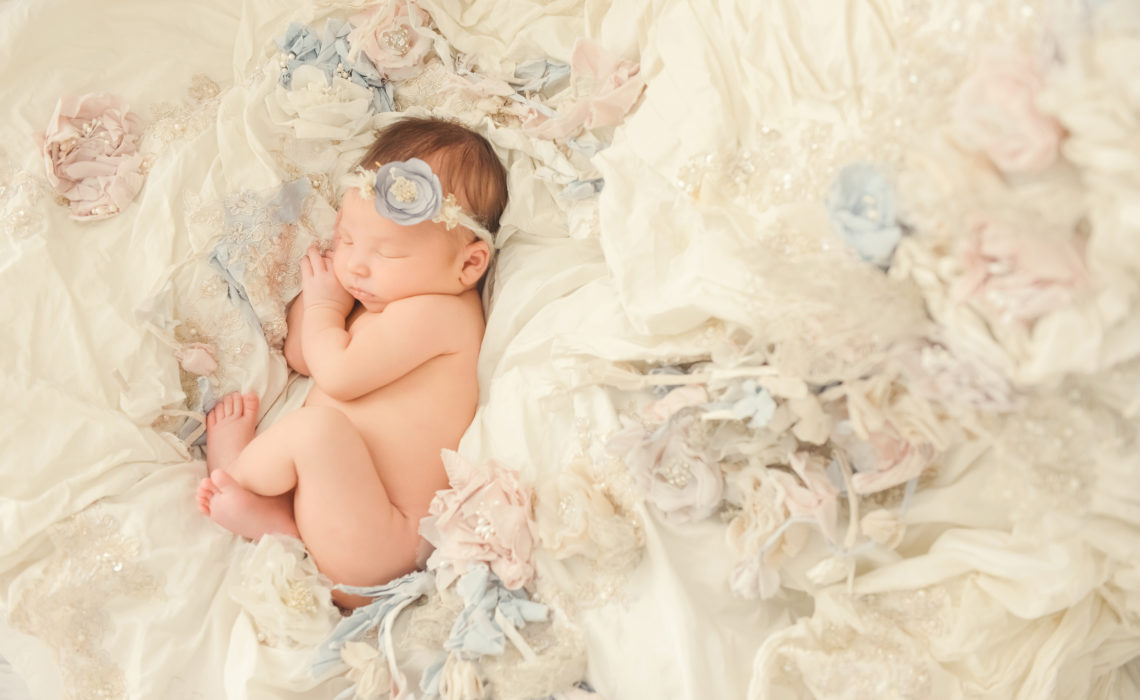 Designing a client's newborn photo shoot specifically for them is our favorite thing to do! We love meeting with clients about a month before their session to get to know them, their style, hear their ideas and then custom design a very personal photo session for their baby.
This particular new mom had a lot of ideas when she booked her baby's portrait session with us, and we were so excited to bring her vision to life. This family rides horses and so it was important to them to incorporate that into their daughter's first photo shoot. They brought a vintage saddle plus cowboy boots, and then we constructed a rustic with floral elements set for them. The style they wanted was rustic and somewhat masculine elements paired with softer, girly accents.
Next up was mom's wedding dress! This was no ordinary dress – it had custom blue and blush pink flowers plus pearls and lace embellishing it. Mom liked the idea of her baby being naked on the dress, and didn't seem too worried about the baby having an accident on her fabulous dress. However, we sure did and the team hustled through that set as quickly as possible so that the baby didn't leave her "mark." Luckily, baby slept soundly and we lifted her off mom's couture gown without incident.
Beverly Hills Newborn Photographer
Our professional baby photographers service the Beverly Hills area, since our photo studio is in Los Angeles. It would be our pleasure to document your baby's most priceless photo session and bring your particular vision to life. Give us a call at 310-391-4500 and visit our website www.thepodphoto.com