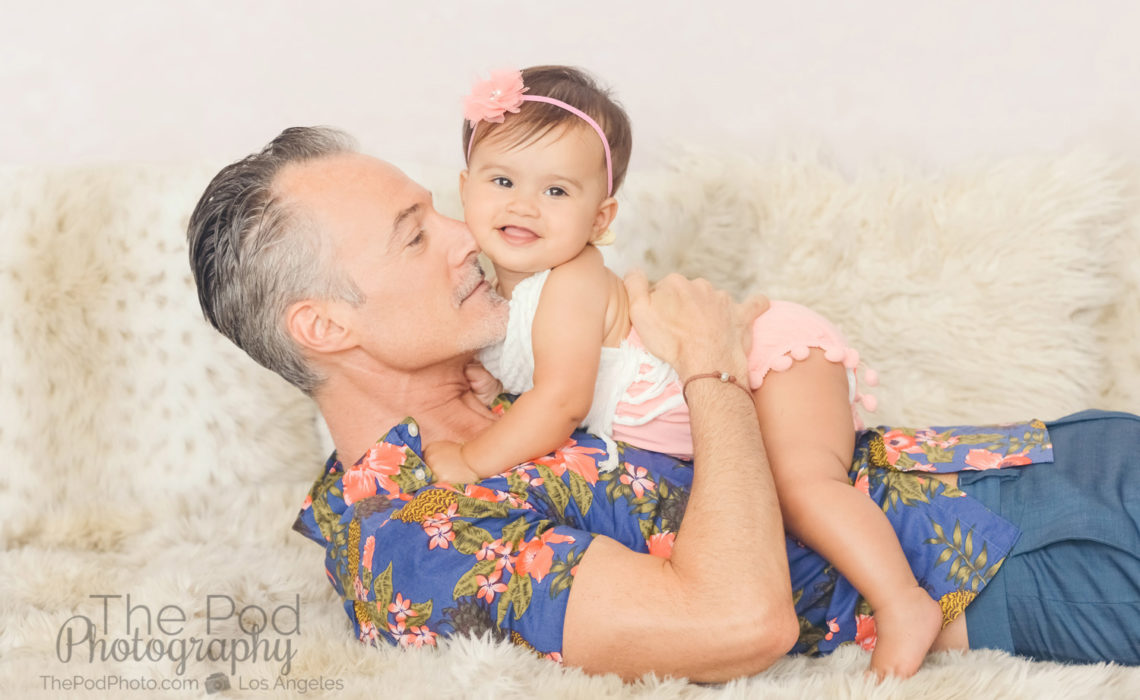 When a Mother's Day photoshoot turns into a Father's Day photoshoot… turns into a baby photoshoot, turns into an all around family photoshoot!
Well, that's exactly what happened for this beautiful family!  This portrait session was originally booked as a Mommy & Me session for Mother's Day. But by the time we got to the studio, mom had the brilliant idea to use this time for some Daddy & Me portraits for Father's Day too!  And well, when you show up to our Hermosa Beach studio looking so fabulous, you may as well make it a family photoshoot while you are at it.
This sweet Hermosa Beach baby girl was the perfect age to hang for every setup that we did.  We always say here at The Pod Photography that nine months is the best age to document.  Babies are generally very happy and well-behaved at this age – so long as they aren't in pain from teething!  Otherwise, it's all smiles all day long.  At least, that's what we get to see!  Younger babies tend to have a little more stranger anxiety. Older babies are much more independent, not wanting to be held to told "what to do."  That's why this is such a special age for portraits. It's that rare in-between age where they may actually do what you want them to do!
We coached dad to wear something classic for the family photoshoot portion of the session, and he happily obliged.  The family photos turned out beautiful!  But then come time for the daddy-daughter portraits, we love that he had other ideas in mind!  He changed outfits and walked back into the Hermosa Beach studio in this bold, Hawaiian print shirt. It had a perfect coral color in it to match his baby girl's boho outfit.  And it totally worked!!  We always say "steer clear of patterns," but this stylish dad has given us a change of heart!
Take a look at some of our favorite from this family photoshoot below:
Give us a call at 310-391-4500 to set up a consultation with your photographer and be sure to follow us on our Blog, Facebook, Instagram and Google+ to see what we've been up to, or explore our YouTube page for more!