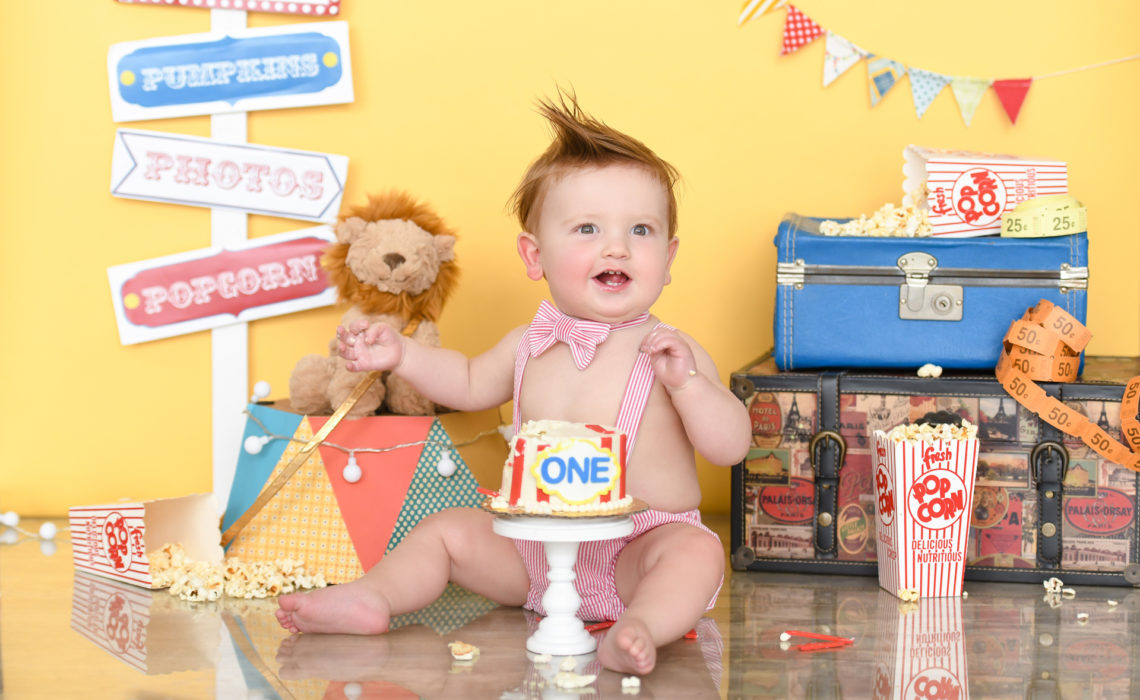 Circus Cake Smash
Who says that girls get to have all the fun? Girls may get all the frills and froo-froo, and the lace and the pearls… but boys? Boys get all the fun themes! Airplanes, jungle, dinosaurs, adventurer, camping, and so much more! But one of our favorite and most popular themes we do here at our Los Angeles photo studio, is first birthday is the circus cake smash!
We knew that Baby Beckham was going to be a little rock-star for his first birthday circus cake smash photo shoot with us! How did we know? Because we had already photographed his big brother for his UP themed cake smash, and his big sister for her girly cake smash years before. And they both did amazing!
Matching Photos
For Beckham, we wanted it to be similar to his siblings, but also unique and different. To match his big brother, we did a custom name banner with a classic outfit.
And to match his big sister's previous birthday portrait session with us, we wanted to do something involving greenery. So a little Palm Springs inspired succulent set with a cute all-white linen outfit was our go-to choice!
And to finish it off… oh my gosh, this kid did so good, there are so many sets! He finished his first birthday circus cake smash session with the "Splash" portion of the shoot. For this, we kept it simple, timeless, and classic for this Los Angeles baby. And we of course had to get a cute naked tooshy shot!
Book A Session
Give us a call at 310-391-4500 to set up a consultation with your Los Angeles photographer. Be sure to follow us on our Blog, Facebook and Instagram to see what we've been up to, or explore our YouTube page for more!