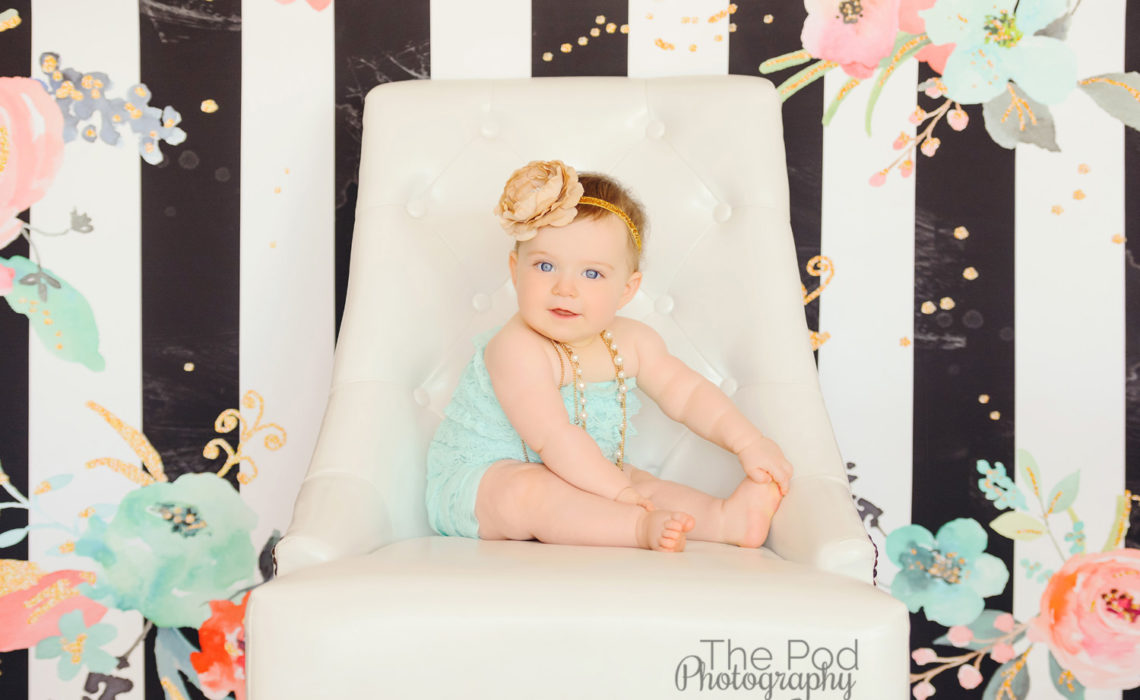 What do you set up for a six month photoshoot for a baby girl who's momma likes feminine styling, but no pink and nothing super girly?  Well the answer came incredibly easy to us when we saw Miss Ainsley and her breaktaking blue eyes!  We knew we had to dress this baby girl in shades of blue to showcase those gorgeous eyes of her, and it was perfect since we had just purchased this edgy, but girly background that had pops of minty blues in it.  The result was so stunning, we became obsessed.  The classic white tufted chair against the stark striped background made for the perfect contrast and had this sweet girl look like a perfect painting!
After her little feminine setup, this boho babe took a spin on our Spring Teepee Set.  We loved how the neutral color scheme and pops of blues in the set brought out those eyes of hers again!
Each season, our Calabasas kids photographer comes up with a brand new set to celebrate the change of the season.  Past sets have included a Vintage Lemonade Stand, a Summer Beach Camper Set, Secret Garden, Winter Wonderland, Miniature Apple Orchards and Pumpkin Stands..and many more!  Pretty much anything that is hip, cool and goes along with the season!  It's great too, since it allows us to add to our ever-growing collection of props making our Calabasas photography studio a one-of-a-kind, completely customized experience.
Give us a call at our Calabasas portrait studio at 310-391-4500 to set up a consultation with your photographer and be sure to follow us on our Blog, Facebook, Instagram and Google+ to see what we've been up to, or explore our YouTube page for more!