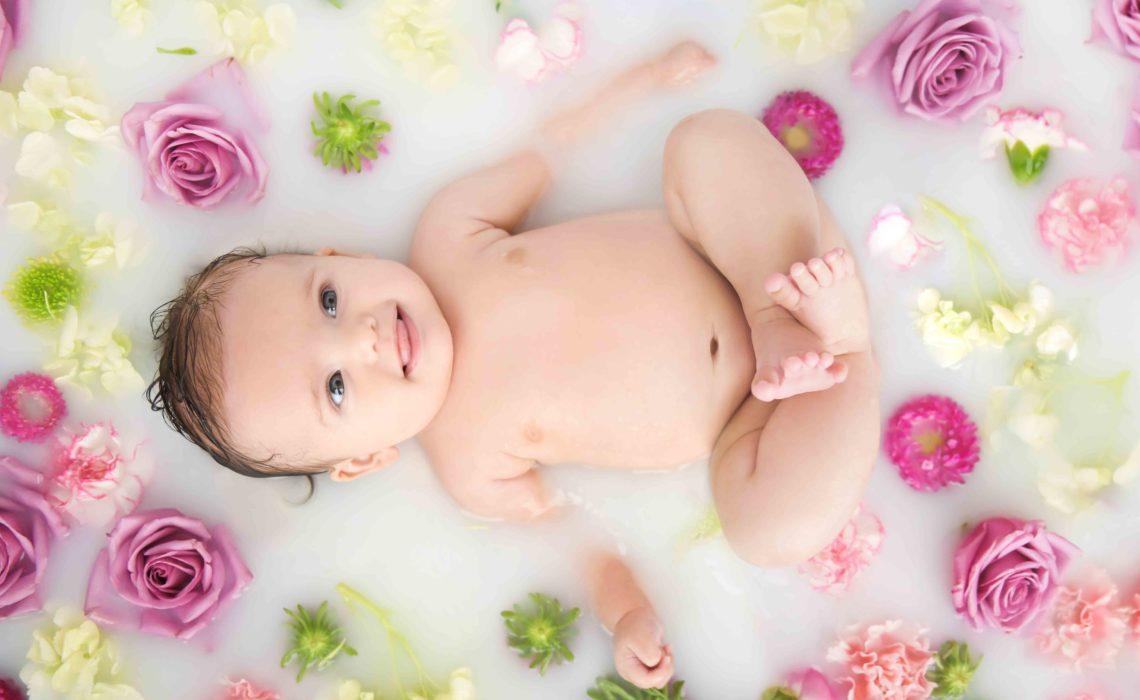 Baby Milk Bath Photo Session
When doing a baby milk bath photo session, there are a few different routes that you can go.  Here at The Pod Photography in Los Angeles, CA, we have experimented with a few different options.  Here are some of the different techniques that we have tried when photographing a baby milk bath photo session.  We'll also share what we think works best!
Our first shot at doing a milk bath, was with a milk bomb.  We had a maternity client introduce us to these.  Using a milk bomb for a baby milk bath photo session is definitely the easiest and most convenient option.  Drop it in, and boom!  Like a bomb, instant milky water.  The look is soft and sweet with a little bit of a muddy gray/white tone.  With flowers mixed in, the look is gorgeous!  However, one thing we keep consistent in our baby photography is always having something pure white in the photograph.  This ensures that the image looks fresh and crisp and goes with the rest of our style.  So for us, as beautiful as the milk bomb is, we wanted to get a cleaner white color.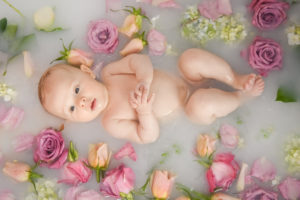 Option 2: Actual Milk
So with that being said, we tried using real milk!  We added warm water to the tub to make the baby comfortable, and it was a nice, milky water for this "strawberry shortcake" themed baby milk bath photo session.  To the eye, the real milk look drastically different from the milk bath – a much thicker consistency.  And you wouldn't think so, but milk actually has a yellow tone to it – it's not pure white!  So against the white tub, the warm-toned milk looked a little off.  Luckily, that's why we have amazing programs like Adobe Lightroom and Adobe Photoshop to save the day!  The images turned out absolutely STUNNING.  Not only that, but they were ruling our Facebook and Instagram feeds for weeks with comments and likes!
Option 3: Powdered Creamer
This method has been our absolute favorite so far for a baby milk bath photo session!  It's the perfect shade of white – giving you a mix between the opaque-ness of actual milk, and the softness of the the bath bomb.  It's also not as wasteful as using an entire gallon of milk, plus baby smells like hazelnut when they get out of the tub!  🙂  To make a milk bath with powdered creamer, just fill up the tub with a warm (and baby-safe) temperature water.  Then, sprinkle in little bits at a time of white powdered coffee creamer.  Mix it in as you go until you achieve the desired look you are going for.  More powder=more opaque, less powder=more translucent.
Happy Milk-Bathing!  🙂
For more information about our Los Angeles photography services, give us a call at 310-391-4500 to set up a consultation with your photographer.  Be sure to follow us on our Blog, Facebook, Instagram and Google+ to see what we've been up to, or explore our YouTube page for more!