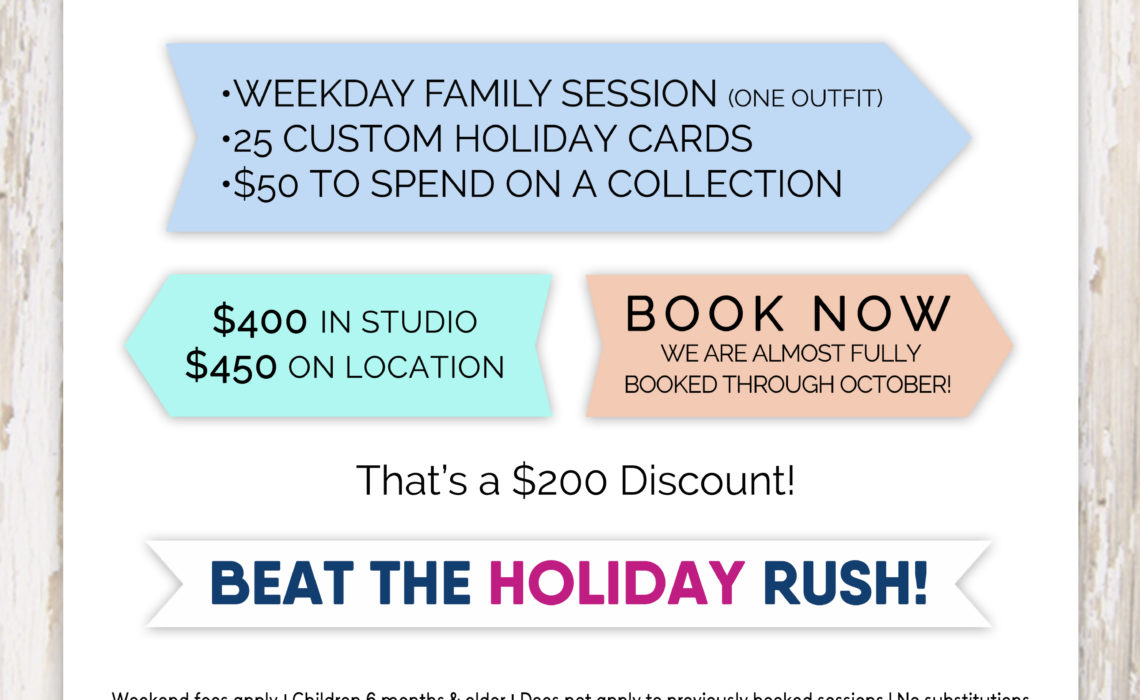 CHRISTMAS IN JULY
FAMILY PHOTO SPECIAL
BIGGEST DISCOUNT OF THE YEAR – THREE DAYS ONLY!
•  Weekday Family Session
•  25 Custom Holiday Cards
•  $50 Collection Credit
$400 in studio / $450 on location
THAT'S A $200 DISCOUNT!
Offer applies to one-outfit family photo sessions with children 6 months and older  |  Weekend fees apply  |  Special does not apply toward previously booked sessions  |  Collection Credit is used toward Collections only – no substitutions  |  $995 Purchase Minimum  |  Session must take place before August 31, 2017 | Session must be booked before July 28, 2017
PRICES FOR HOLIDAY CARD SESSIONS GO UP IN SEPTEMBER
CALL 310-391-4500 TO BOOK!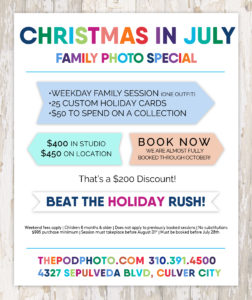 REASONS TO TAKE YOUR PHOTOS NOW:
• We are almost fully booked through October (especially weekends!)
• The weather is gorgeous – don't get rained out of your shoot later on!
• Check off holiday cards and gifts from you to-do list NOW!
• Beat the rush and avoid the stress of the season!
• Have your beautiful new photos hung in time to impress those in-laws!
Give us a call at 310-391-4500 to schedule your session!